Dental fillings
We ensure that the tooth filling is not visible. We pay special attention to the absolute naturalness and precise anatomy of the appearance of the dental filling. The Vita EasyShade Compact – a tooth colour measuring device – is our everyday helper when choosing tooth colour.
We use exclusively a Leica dental microscope with the possibility of a LIVE feed of treatment to prepare the tooth and model the filling.
Below you will find selected procedures and their prices.
Before the procedure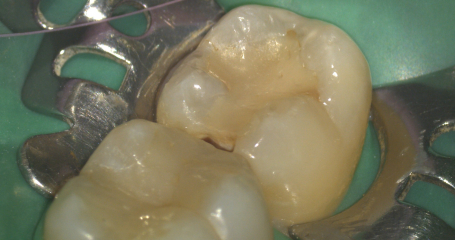 After the procedure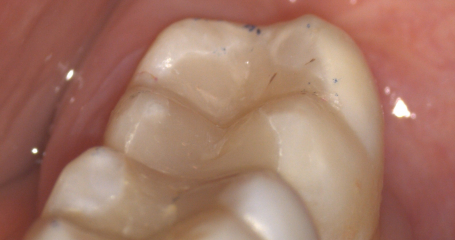 Results of our work
Price list of procedures
| | |
| --- | --- |
| PHOTOCOMPOSITE FILLING – SMALL SCOPE | 2180 Kč |
| PHOTOCOMPOSITE WHITE FILLING DIAMOND – NECK FILLING | 4360 Kč |
| PHOTOCOMPOSITE FILLING, 1 SURFACE | 5450 Kč |
| PHOTOCOMPOSITE FILLING, 2 SURFACES – PREMOLAR | 5450 Kč |
| PHOTOCOMPOSITE FILLING, 3 SURFACES – PREMOLAR | 8175 Kč |
| PHOTOCOMPOSITE FILLING, 2 SURFACES – MOLAR | 8175 Kč |
| PHOTOCOMPOSITE FILLING, 3 SURFACES – MOLAR | 10900 Kč |
| PHOTOCOMPOSITE WHITE FILLING FRONT SECTION, UNCOMPLICATED | 5995 Kč |
| PHOTOCOMPOSITE WHITE FILLING FRONT SECTION, COMPLICATED | 8175 Kč |