Implantology
The surgical part is performed by MUDr. Jan Dražan – Dentkomplex, s.r.o.
We often finish the prosthetic phase in combination with the prosthetic treatment of other teeth.
MUDr. Jan Dražan implants the brands BioniQ, Biomet 3i, Straumann.
The price calculation is based on BioniQ implants. For the exact cost of the overall treatment, it is necessary to perform a complete examination and planning of procedures.
Before the procedure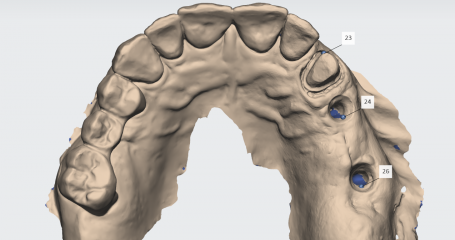 After the procedure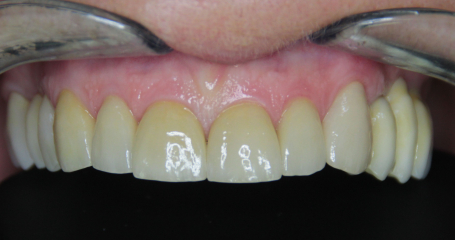 Results of our work
Price list of procedures
| | |
| --- | --- |
| INTRODUCTION OF BIONIQ IMPLANT | 15500 Kč |
| INTRODUCTION OF BIOMET 3I IMPLANT | 16500 Kč |
| INTRODUCTION OF STRAUMANN IMPLANT | 19000 Kč |
| ALL-CERAMIC CROWN WITH ADHESIVE ABUTMENT (PRICE EXCLUDING ABUTMENT) | 12996 Kč |
| ABUTMENT (CONNECTING PART BETWEEN IMPLANT AND CROWN), FROM | 1514 Kč |
| 1 MISSING TOOTH: BIONIQ IMPLANT AND ALL-CERAMIC CROWN | 31199 Kč |
| 3 TO 4 MISSING TEETH: 2 BIONIQ IMPLANTS AND AN ALL-CERAMIC THREE-UNIT BRIDGE | 65558 Kč |
| MISSING TEETH IN REAR JAW SECTIONS: 4 BIONIQ IMPLANTS AND 2 THREE-UNIT ALL-CERAMIC BRIDGES | 130956 Kč |
| TOOTHLESS UPPER JAW – 8 BIONIQ IMPLANTS AND A 12-MEMBER ALL-CERAMIC BRIDGE (AUGMENTATION = SYNTHETIC BONE APPLICATION WORTH CZK 5,000–10,000 PER 1 JAW SIDE IS NOT INCLUDED) | 260812 Kč |
| TOOTHLESS LOWER JAW – 6 BIONIQ IMPLANTS AND A 12-UNIT ALL-CERAMIC BRIDGE (AUGMENTATION = SYNTHETIC BONE APPLICATION WORTH CZK 5,000–10,000 PER 1 JAW SIDE IS NOT INCLUDED) | 207434 Kč |